My elder one, Ami is turning 4 in a few months and she is one of those Curious George types.  She has to ask at least 50 questions a day and since she is learning to talk in English, it is mostly why, what and how questions. This morning I was teaching her about Gender- Well, Boys and Girls, Male and Female to be precise. Here is a gist of the conversation and then I'll get to my point:
Me: Ami, Amma(Mother), Ammuma (Grandmother), Suma(Aunt) are all girls or females.
Ami: Okay.
Me: And Acha(Father), Appoopa(Grandfather) and Kochacha are boys, males.
Ami: Ok Amma. So all boys are males and girls are females.
Me: Yes. Yay! High Five!
Ami: But Amma who is a girl? And who is a boy?
Me: Huh. Hmmm Girls have long hair and all that and boys are rough and have short hair.
Ami: Oh! But I am rough and have short hair. SO I am a boy eh?
Me: <Gupling> No Ami. You are a girl and so is Cookie. Let me think and give you an answer to who is a girl and who is a boy ok?
Ami: Ok Amma
Phew!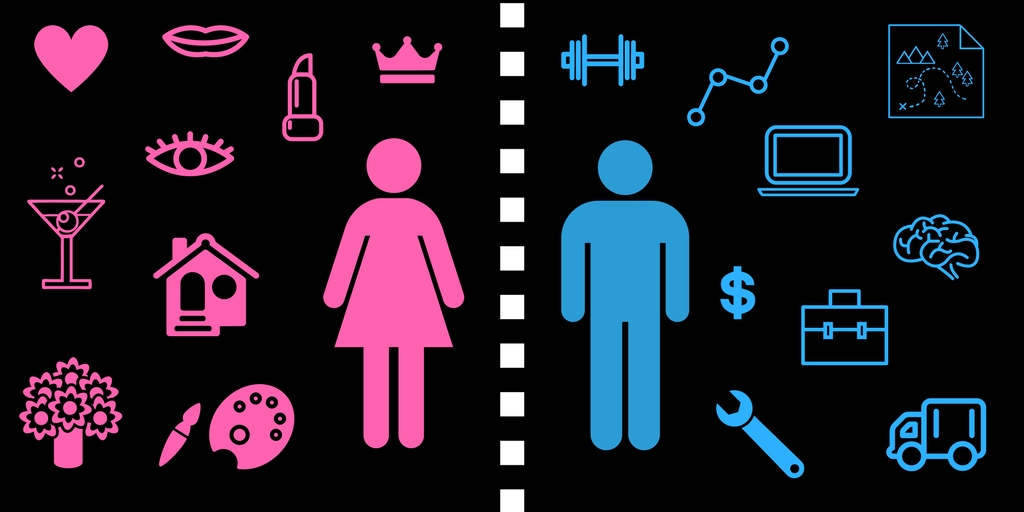 She turned back to playing and I was left thinking about the idea we have in our heads about males and females. Why did I say that girls have long hair when I am thinking of chopping away my mane? How can I say boys are rough and tough with short hair when our Babita Kumari and Kiran Bedi are proving us all wrong. That's when I realised that gender differences and indifference are within us, in our head. It is on us parents to teach our future generation the actual difference instead of just passing on the adage of what has been drilled into our head. Pink for girls, blue for boys. Boys play with cars and trucks, girls play with dolls and brush!And all this blah blah about women representation and reservations need to be shut down!
I was bought up by my dad who donned the role of a mother, just like that. He learnt to cook, tie my hair, listen to girl talk, answer teen queries and every other thing that a mother is "supposed" to do. And me? I used to run around in shorts and tshirts and play with boys, climb trees, ride cycles and do everything except pee on the road! Then why did I reply in that manner to Ami?
It must be the stereotypes that are drilled into our brain from the time we are born. No matter what we do, or where we go or how we are raised, these stereotypes will tag along. And it is not just the information passed on from one generation the other, it's not just one movie, it's not just one TV show, it's constant exposure to the same outdated concepts in the media over and over, starting before preschool and lasting a lifetime! Unfortunately,  gender stereotypes in movies and on TV shows are more than persistent; they're incredibly effective at teaching kids what the culture expects of boys and girls. What makes these messages stick ,and harder for parents to counteract is that they're timed for the precise moment in kids' development when they're most receptive to their influence. Think of preschoolers who are just beginning to identify as boys or girls. The characters they see on TV and in movies often have an obvious masculine or feminine appearance, such as a superhero's big muscles(Little Singham, Johny Bravo) or a princess' (Rapunzel, Anna, Elsa)long hair. These characteristics also are often associated with specific traits.For young audiences who absorb ideas from the media on how to behave and what to become, these characterizations can lead to false assumptions and harmful conclusions.
Now, kids have this amazing, natural ability to see the world as limitless, but when adults signal that certain things or behaviors are off limits for kids based on their gender, their worlds get smaller and smaller—and that's not just sad, it can be damaging as well. Obviously, every parent has the best intentions, but sometimes it's possible to unknowingly promote stereotypes that can fence our children in. Its not just in India, but around the world as well. What is disheartening is to know that. although we have stepped into the 21st century and there are heated discussions about feminism and glass ceilings, there are still very consistent forms of patriarchy all around the world.
So what can I do or what can I say to my girls so that they don't get caved in and caught up in this ever rolling ball?
Well, at least for the sake of my girls, I'm going to look at it as a window of opportunity to really address these attitudes and beliefs before they become cemented later on. How?
There is NO boy toy and girl toy. Girls want to play with a car, so be it!
Football and hockey isn't just played by boys. Go, play!
Pink is not just for girls and blue isn't just for boys.
Show my girls the people who have broken stereotypes and marched ahead.
Choose books wisely.
Chores of the house are divided equally. There is no such thing as a job that acha does or amma does.
We just seem to think of gender as a binary function when we are all non-binary. The age old saying of let boys be boys and girls be girls must really be questioned. And so, off I go to tell little Ami that if you pee on the road, then you are a boy!
Wink Wink.
Someday soon… Hopefully